Ultraguard vs Plaster
A COMPARISON OF ULTRAGUARD VS. PLASTER RESTORATION.
An original Marcite Plaster surface will last between 10 to 20 years. However, when the plaster surface has to be redone, the life expectancy is 5-6 years and sometimes less but the cost to redo remains very high. The UltraGuard pool resurfacing system was developed to address this problem and provide the home owner with a durable and cost effective solution.
Common Pool Paint Problems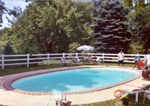 Surface Roughness
Marcite Plaster vs. UltraGuard: As a plaster swimming pool wears, roughness increases causing blisters, scuffed feet and even bleeding. UltraGuard is a consistently smooth surface that will not scuff feet or cause blisters and/or bleeding.
Blemishes and Stains
Marcite Plaster vs. UltraGuard: Marcite plaster is vulnerable to staining immediately upon completion and the pool being filled with water. Stains will increase over time and can only be eliminated by draining and acid washing the pool surface. This causes plaster deterioration (roughness) to accelerate and increases maintenance costs because due to repeated cleanings. The UltraGuard surface is highly resistance to stains but should a stain occur it can usually be easily removed without having to drain the pool.
Algae Resistance
Marcite Plaster vs. UltraGuard: A porous plaster surface allows algae to both adhere and grow with little to no resistance. Removal requires special chemicals that can be very expensive and/or draining and acid washing with is labor intensive and time consuming. Alae growth issues with plaster pools are magnified further if the pool is heat. UltraGuard has a built-in defense that is anti-mildew and anti-microbial which prevents the growth of algea almost entirely. However, should any appear it can be easily cleaned of the smooth surface without having to drain the pool.
Pool Chemicals
Marcite Plaster vs. UltraGuard: Plaster surfaces begin to breakdown with exposure to chemicals. The process is gradual but the moment a pool is filled with water and chemicals are added they begin to interact with the plaster surface. Also, plaster pools require more chemicals to be used which can be very expensive for the home owner. UltraGuard has a surface that is highly chemical resistant and almost entirely impervious to chemical exposure.
Bonding to Existing Substrate
Marcite Plaster: When a pool is redone using plaster the bond that takes place with the original substrate is never as strong as the original and tends to start delaminating much more quickly. UltraGuard is a polymer-based product that develops and incredibly strong mechanical bond to the substrate surface which prevents delamination.
The UltraGuard Difference
Please read our customer Testimonials. UltraGuard has been used on more than 5000 residential and commercial pools since 2003. Many of these customers turned to UltraGuard after the product they had originally used on their pools failed. UltraGuard has been used by Architects, Engineers and even experts in the painting and coatings industry.
UltraGuard has the only A+ rating on the internet with the BBB as a DIY and is one of a very few pool resurfacing products listed with Angie's list.
UltraGuard has an amazingly low 1.5% failure rate. This would not be possible if it were not the best resurfacing system in the industry.
UltraGuard is the only coating that has anti-mildew and anti-microbial properties built into the formulation. This prevents algae growth and provides an extra level of sanitation to the pool surface.
UltraGuard is the lowest VOC pool coating system available with the lowest negative impact to human and environmental health.
Since 2003, UltraGuard has been America's #1 longest lasting, high quality, tested and proven pool resurfacing system.
We strongly believe that once you have read through all of the information provided on the website, you will not want to buy plaster recoating for your pool, pool paint including an EHB epoxy paint and/or fiberglass re-coating. In many cases they develop issues such as chalking, flaking and blistering within 1 to 2 years.
Buy ArmorKote Today
AMERICAS #1 TRUSTED DIY POOL RESTORATION SYSTEM!
Order Here