Stop Leaks
ULTRAGUARD Pool restoration system CAN STOPS LEAKS AND FILL CRACKS!!!
THE FIRST AND BEST ELASTOMERIC SWIMMING POOL REPAIR & RESURFACING SYSTEM IN THE POOL INDUSTRY.
If you were to ask a consulting architect or structural engineer about the benefits of repairing and resurfacing your pool using an elastomeric swimming pool resurfacing system, they could provide a host of benefits. Many pools that have a 25-30-year-old pool shell are actually breaking down and losing structural integrity. In most cases cracks will have appeared, the surface will have become absorptive and permeable to water. Hydrostatic pressure and ground water provide further negative impact to already deteriorating surfaces. When a pool is in this condition it will cause any repair attempts with re-plastering, painting and/or fiberglassing to fail within a short period of time. This is one of the main reasons why the UltraGuard pool resurfacing system was developed and made available to the DIY homeowner.
ULTRAGUARD HAS REVOLUTIONIZED SWIMMING POOL RESURFACING
Because of UltraGuard's industrial grade performance characteristics, it not only provides a non-permeable pool surface that is impervious to chemicals, it also provides structural strength and integrity to the existing pool substrate. In essence, your pool will be completed with a plastic shell that has a super high bond strength to the substrate. If you want to repair and resurface your swimming pool the right way, then the UltraGuard pool resurfacing system should be your go-to product.
ULTRAGUARD CAN STOPS LEAKS AND FILL CRACKS!!!
If you have a leaking pool due to cracking, ULTRAGUARD's BondKote product can be used to solve the problem. The product is designed as a high strength polymer and comes in a filler/puddy form. It can be used to fill cracks and holes where leaking may be occurring both seals off the applied area and bonds to both sides of the crack to provide structural strength to the area. A leaking pool caused by substrate cracking can become a thing of the past with the BondKote product.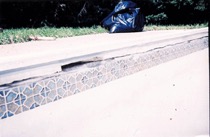 Large cracks can be filled using BondKote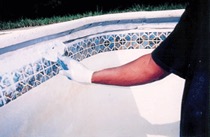 UltraGuard's BondKote, which can achieve up to 11,700 PSI bond strength, can be applied to create a watertight seal.