Fiberglass Failures
Real World Fiberglass Pool Failure Stories
Six years ago I had my pool fiber glassed by Sunrise Leisure and it failed. The gelcoat (topcoat) all but disappeared where blistering, cracking and delamination took place. It became necessary to rip out the entire fiberglass shell and replace it with UltraGuard. Sunrise Leisure would not stand behind their warranty. They are not a reputable company.
Bill Edmonds
Holland, PA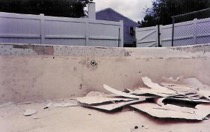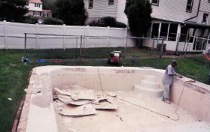 Sunrise Leisure in May of 1999 fiber glassed my pool with a 25-year warranty. I called them this year to notify them that the fiberglass was pulling away from the pool and had other failures. They told me I have no warranty that Sunrise Leisure went bankrupt and they are a new company that's now located in Delaware. Their website and logo say they have been in business since 1978. In reality they are misrepresenting and will not stand behind any of their warranties.
Can you help me fix this problem with your UltraGuard?
M. Harvey
Wayne PA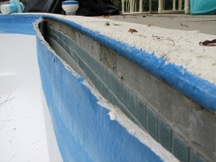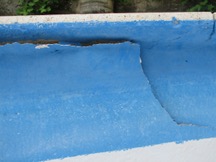 My Fiberglass pool needs a new topcoat
My 23 year old 15X32 one piece fiberglass drop in pool needs a new topcoat(Gelcoat). I searched on the Internet for a source to buy a Gelcoat for my pool, but to my dismay, I could only find one source that was not a manufacturer or a wholesale distributor, and none of these sources offered any warranties. Will the UltraGuard product work well on my pool surface and does your product offer any warranties?
As we are sure you are aware, there are over 130,000 listings on the Internet about fiberglass Gelcoats. As you noted, no national manufacturer or distributor is willing to offer a quality Gelcoat for any swimming pool. Your one-piece fiberglass pool, when first manufactured, had a thick Gelcoat placed on the mold surface and then the fiberglass shell was placed over top. By manufacturing a pool in this manner, the Gelcoat could not extrotherminate (overheat) and the life expectancy with this application should be about 20 years.
A Gelcoat to be applied on an existing fiberglass shell to be used in a harsh swimming pool environment will not be warranted by any large manufacturer such as Rohm and Hass, Shell Petroleum and/or Interplastics. The life expectancy for this type of Gelcoat application is no more than 5-6 years. Interplastics, the largest manufacturer of Gelcoats in the country, does not recommend any of their Gelcoats for application on an existing fiberglass pools because the Gelcoats won't stand up to the harsh environment of a pool.
P. Cox
Lebanon, PA