Poly-one Coat
Poly-one Coat is a commonly known pool paint that many customers have used and in a very short period of time experienced issues such as chalking, delaminating and blistering. We have provided testimonials from customers that found UltraGuard after they searched for the best pool resurfacing solution.
Real World Poly-one Coat Stories
I just refinished my pool with Ultraguard on Jun 20, 2009. The Sky blue color looks awesome. I have already had two failures from using the Ultra Poly One Coat product. Poly One's product is very heavy (I wonder if it contains fillers). Over time, after 2 separate applications one year apart, their product kept "chalking" my pool surface (white residue all over the surface of the pool and cloudy water). Poly One tried to blame it on water chemistry, my water is not hard and always tests fine at the pool store. I also had some delaminating of the Poly One coating on the floor in the shallow end.
Ultra Poly One Coat requires 5 days drying time and that you add acetone to their mix–essentially making a paint. I believe UltraGuard to be a superior product. It goes on thicker, the color is much nicer, the drying/curing time is very short, you don't add acetone to the mix, there are no fillers, and the customer service walks you through every step of the process.
Thanks for all your help!
Kevin Moore
Ft Worth, TX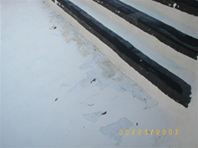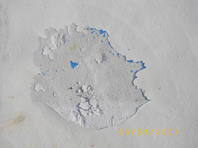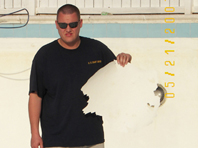 Thanks for speaking with me about why my pool is losing its bottom. Here are the pictures I told you I would send. The pool was resurfaced in Feb/Mar of 2005 with Poly One Coat by a pool company in North Carolina. In July 2006 I began to see pieces of the bottom coming up from the pool around the steps. I drained the pool in April of 2007 to access the amount of damage and this is what I found. Just about all the way across in front of the steps the Poly One Coat surface bottom has come up from the pool. Also in other areas of the pool the same thing is occurring. The picture of me holding the sheet is from the slope going towards the deep end of the pool. I have been a certified pool operator for 7 years and have been around pools as a lifeguard for an additional 4. I have never seen anything like this in all my experience. Any recommendation you have for me would be greatly appreciated.
Brian Matthews
Buy UltraGuard Today
AMERICAS #1 TRUSTED DIY POOL RESTORATION SYSTEM!
Order Here